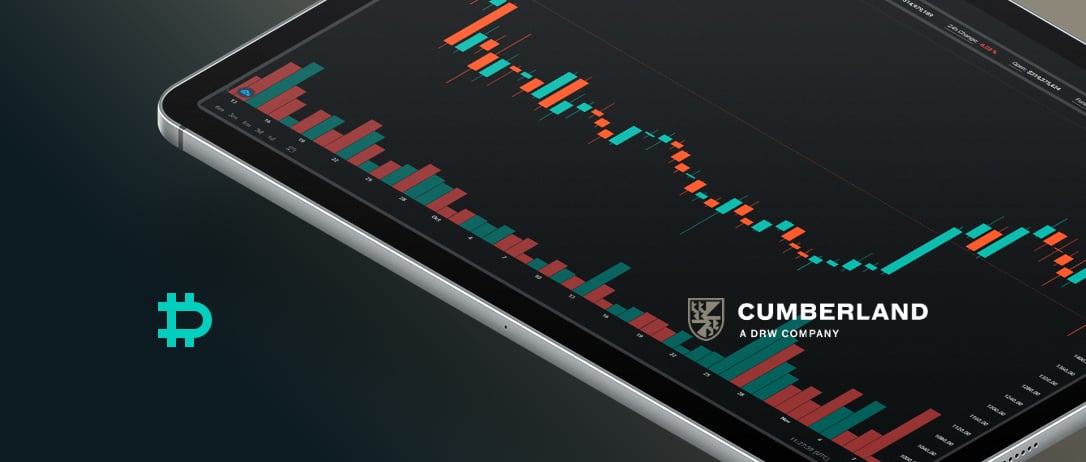 Cumberland is commenting on the recent volatility and potential opportunities to take advantage of it.
For further information about Cumberland, please visit Cumberland website here.
November 21
What we are seeing in the markets
Markets calmed down surprisingly quickly given the magnitude of the impact of the FTX collapse. 7D realized vol fell to 42% / 60% for BTC and ETH respectively. In the very short term, we think that both the World Cup and US Thanksgiving might mean the market stays calm. However, as the credit deleveraging continues, volatility still lurks around the corner. Uncertainty around the status of Genesis pushed vols back slightly higher over the weekend, with 12/30 implied vol now sitting at 71%/93% for BTC/ETH. The BTC to ETH vol ratio still sits at the higher end of the range at 79% in the March expiry. Historically, the ratio usually ranges between 60% to 80%. Lastly, Solana vols remain elevated with 30-day IV at 195%, with SOL vol to ETH vol ratio sitting well above its historical range.
Potential trades
1. Buy March ETH Calls
Mar ETH vol looks attractive relative to Dec ETH vol, trading at 96% vs 93%. Furthermore, the BTC vol to ETH vol ratio for March sits at 79%, which is also near the high end of the historical range. For counterparties seeking to potentially take advantage of the relatively low March ETH vol levels, look to outright long March ETH calls. This not only gets exposure to vols at a relatively attractive level, but also allows for upside potential if negative headlines were to clear.
2. Sell December SOL puts
Although SOL has settled down slightly post the FTX collapse, vol remains elevated with 30D implied at 195% and 7D realized at 104%. For long-term holders of SOL who are looking to buy at discount levels, consider selling 30th Dec $9 puts at ~$1. This generates a premium of ~11% of notional for those who are committed to buying at a specific price target.
Disclaimer
The information ("Information") provided by Cumberland DRW LLC and its affiliated or related companies (collectively, "Cumberland"), either in this document or otherwise, is for informational purposes only and is provided without charge. Cumberland is a principal trading firm; it is not and does not act as a fiduciary or adviser, or in any similar capacity, in providing the Information, and the Information may not be relied upon as investment, financial, legal, tax, regulatory, or any other type of advice. The Information has not been prepared or tailored to address, and may not be suitable or appropriate for the particular financial needs, circumstances, or requirements of any person, and it should not be the basis for making any investment or transaction decision. THE INFORMATION IS NOT A RECOMMENDATION TO ENGAGE IN ANY TRANSACTION.
If any person elects to enter into transactions with Cumberland, whether as a result of the Information or otherwise, Cumberland will enter into such transactions as principal only and will act solely in its own best interests, which may be adverse to the interests of such person. Before entering into any such transaction, you should conduct your own research and obtain your own advice as to whether the transaction is appropriate for your specific circumstances. In addition, any person wishing to enter into transactions with Cumberland must satisfy Cumberland's eligibility requirements.
Cumberland may be subject to certain conflicts of interest in connection with the provision of the Information. For example, Cumberland may, but does not necessarily, hold or control positions in the cryptoasset(s) discussed in the Information, and transactions entered into by Cumberland could affect the relevant markets in ways that are adverse to a counterparty of Cumberland. Cumberland may engage in transactions in a manner inconsistent with the views expressed in the Information.
Cumberland makes no representations or warranties (express or implied) regarding, nor shall it have any responsibility or liability for the accuracy, adequacy, timeliness, or completeness of, the Information, and no representation is made or is to be implied that the Information will remain unchanged. Cumberland undertakes no duty to amend, correct, update, or otherwise supplement the Information.
The virtual currency industry is subject to a range of risks, including but not limited to: price volatility, limited liquidity, limited and incomplete information regarding certain instruments, products, or cryptoassets, and a still emerging and evolving regulatory environment. The past performance of any instruments, products, or cryptoassets addressed in the Information is not a guide to future performance, nor is it a reliable indicator of future results or performance. Investing in virtual currencies involves significant risks and is not appropriate for many investors, including those without significant investment experience and capacity to assume significant risks.