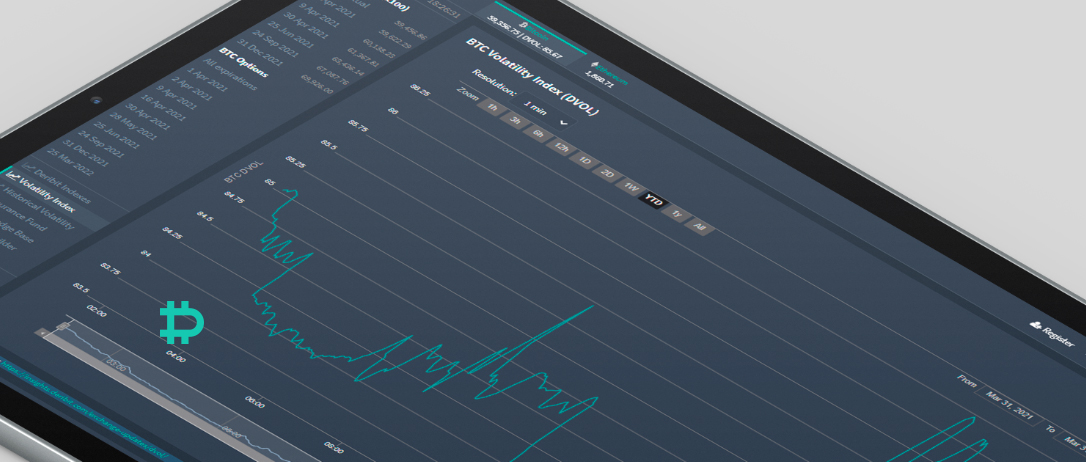 Deribit has today made the first step towards launching volatility products with the launch of our Bitcoin Volatility Index, DVOL. The next goal is to launch futures on this index soon, enabling traders to take a position based on the market view on near-term volatility.
Simple exposure to pure implied volatility.
This comes in the form of tradable futures on a volatility index – a common instrument in the traditional markets.
DVOL – the pulse of Bitcoin; the barometer of market volatility and sentiment.
DVOL uses the implied volatility smile of the relevant expiries to output one number that gives a gauge of the 30 day annualised implied volatility. Whilst in traditional market's, the volatility index is known as a "fear gauge", when looking at implied volatility in Bitcoin, we instead refer to this volatility index as an "action gauge" as Bitcoin options often have positive skew and the large moves are often expected on the upside as well as downside.
"Due to the success of Deribit's options segment, Deribit is perfectly positioned to launch implied volatility products complementing traders' needs" – Su Zhu, CIO, Three Arrows Capital
Gregoire Magadini the CEO of Genesis Volatility stated: "DVOL is a big step forward for the Bitcoin option space. DVOL provides insightful option pricing information and Deribit is the only exchange liquid enough to support the robust data requirements needed for the creation of an index such as DVOL."
"Market participants need to be able to better understand as well as manage volatility. As the BTC options market has matured, the time is now to launch DVOL enabling further market growth and hopefully soon welcoming a new suite of volatility traders on Deribit." according to John Jansen, Deribit's CEO.
Click here for more information regarding the construction of the volatility index.
Of all crypto options are traded on Deribit
Sign up and begin trading here.
Deribit welcomes the market to review and share feedback on the methodology and topics like the best settlement time for the index / futures and the optimal settlement duration (i.e. how many index snapshots). Please send any comments or suggestions to shaun+f@deribit.com.