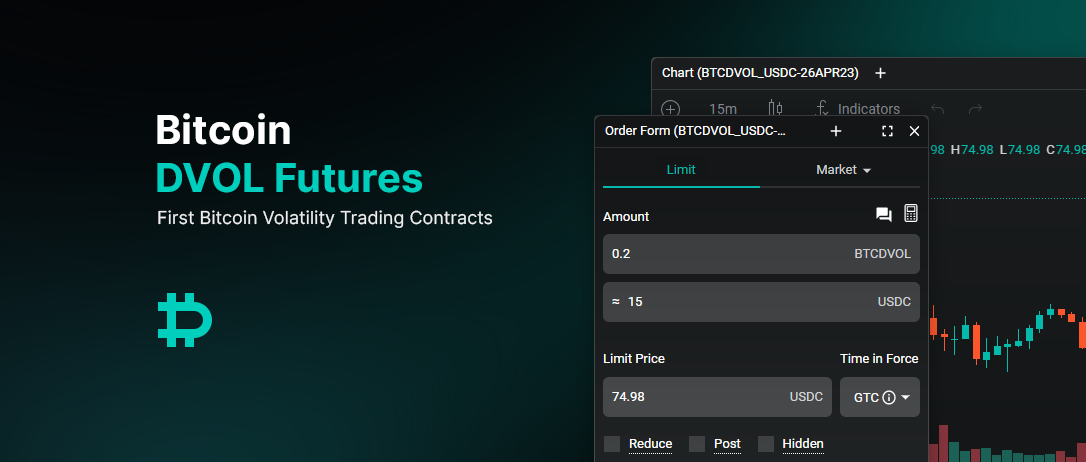 BTC DVOL futures will allow for pure volatility trading and further diversification of risk.
Deribit, the world's largest crypto derivatives exchange, today announced the upcoming launch of BTC DVOL futures, a contract built on DVOL (the Deribit Bitcoin Volatility Index) to facilitate Bitcoin volatility trading. DVOL is a measure of the expected or implied volatility of the BTC market, providing insight into investor price expectations and the overall health of the market.
"We're thrilled to offer our clients access to pure BTC volatility trading through DVOL futures," said John Jansen, CEO of Deribit. "DVOL can indicate changes in the health and direction of the Bitcoin market, making it an essential tool for traders looking to stay ahead of the curve and a great baseline for volatility trading. Deribit is always looking to bring new products to the market that offer traders new, transparent and secure methods to gain exposure to digital assets and best take advantage of market activity."
DVOL is calculated by using the implied volatility Smile of a selection of option expiries and strikes on Deribit and provides a 30-day outlook on the expectation of annualized volatility. By design, the index reflects traders' views on future BTC volatility, giving an indication of Bitcoin's expected price movement. The DVOL value allows traders to have a real-time view of the market's temperature and its potential movements.
Jansen continued, "As the crypto market continues to mature, we believe that providing traders with innovative products and tools is crucial to driving growth and adoption. BTC DVOL futures are an exciting new product that will help traders to hedge their positions and take advantage of market volatility while also serving as a tool for additional risk management, alpha generation and portfolio diversification. This product is particularly useful for those who want exposure to volatility but do not want to trade complex options strategies."
Deribit is currently the only exchange to offer volatility trading capabilities as its options trade volume allows for accurate calculation of implied volatility. Additionally, Deribit's deep liquidity ensures that traders will be able to find a counterparty quickly and efficiently for BTC DVOL trading. BTC DVOL will start with one expiry which will be available on Deribit as of 27 March 2023 and additional expiries will be launched in the coming months. The products will be linear futures that are priced, margined and settled in USDC.
Greg Magadini, Director of Derivatives at Amberdata, stated, "Having DVOL futures available makes running a portfolio of BTC options even more manageable. Just like traditional PMs will sell an S&P500 future to hedge their stock holdings, Deribit traders can now granularly manage their Vega exposure by trading a liquid DVOL future against their option book. Speculators can also have clean Vega bets by trading DVOL futures while avoiding the complexities of path dependency."
Eligible market makers who quote DVOL futures will have the opportunity to receive a 2 bps rebate on all USDC instruments for 1-year. To qualify, liquidity providers must quote DVOL futures from launch with 1000 DVOL on each side of the book and a max spread of 1% (in price) for at least 50% of the time when markets are active. For all other traders, DVOL futures will follow the same fee structure Deribit's other USDC instruments. Trading 1000 DVOL implies USD 1k of Vega so the rebate would equate to Quantity * DVOL * rebate = 1000 * 55 (now) * 0.0002 is approximately USDC 11.
For those interested in learning more about DVOL futures, Deribit's Head of Options, Pierino Ursone, will be hosting a Twitter space on Friday 24 March, 2023, 1 PM UTC where he will provide additional insight into DVOL futures and answer questions live.
Additional Information
BTC DVOL Futures Product Specifications: Link.
DVOL Whitepaper: Link.
About DVOL
Greg Magadini, Director of Derivatives at Amberdata, explains the importance of volatility indexes and how they are calculated:
About Deribit
Deribit is a centralized, institutional-grade crypto derivatives exchange for options and futures trading based in Panama City, Panama. Deribit's state-of-the-art infrastructure offers instantaneous price discovery, low latency trading, advanced risk mitigation services, and deep liquidity via its network of top-tier market makers. Led by a team with decades of experience in options trading across all markets, Deribit facilitates a significant majority of all crypto options trading and has robust proof of assets and liabilities procedures to ensure the exchange is held to the highest of standards.
For additional information, visit us here.
Media Contact
M Group Strategic Communications (On behalf of Deribit) deribitpr@mgroupsc.com.