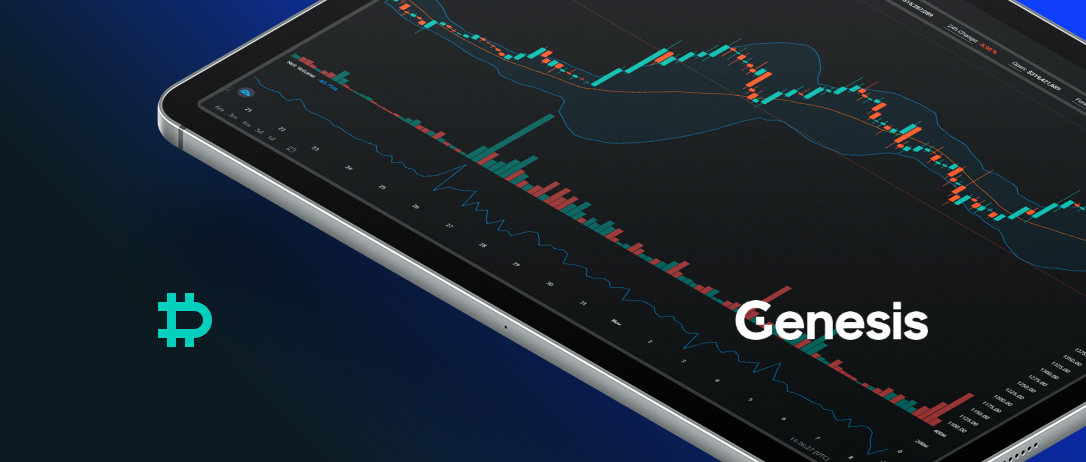 In this week's Desk Commentary, Genesis is commenting on the recent rally.
After a successive serially auto correlated run up in spot that saw crypto majors rally over 20% in just a few days, boosting front end implied volatility and inverting term structure as would be expected in a range breakout, the third week of the year has seen a partial reversal of those phenomena.
BTC spot has clung tightly to 21000 while 1600 has definitively capped ETH for the last several trading days, suggesting gamma saturation. Yet even as spot stagnated, Vega buckets have materially outperformed. From lows near 53% and 56% respectively, March and June BTC IVs gapped 6-10 points over the long weekend before settling in, with OTM call skews pushing multimonth highs. Similarly, the steep term structure inversion rapidly normalized with Jan falling from a 10+ point premium vs March to a nearly 5 vol discount as of this morning before clawing back to flat as spot swooned lower with the DOJ's Bitzlato enforcement action.
The Tuesday session had seen significant demand for short dated BTC (and to a lesser extent, ETH) upside, before gamma came crashing lower into the Wednesday New York morning with 20 and 27Jan BTC given down into the mid 50s and Feb dates falling below the 60% threshold. Those have since firmed up with the 6% range put in since noon EST, while still far below the IV-spurt from the initial press through 21500. Gamma at current pricing thus evinces a fundamentally realizable consideration, yet absent another surge to new cyclical highs in spot or a break back through congestion at 19000-20000 and 1400-1500, gamma may tend to remain under pressure. Particularly with skews having firmed up materially in favor of calls, there may be fresh supply of topside looming from traders who've not seen 60 or indeed 70 handle vols on shorter dated options in what feels like months unless historical volatility can sustain its own recovery.
Disclaimer
Genesis Global Trading, Inc. and its global affiliates (collectively, "Genesis") do not provide legal, compliance, tax or accounting advice. Genesis is a principal trading firm; it is not and does not act as a fiduciary or adviser, or in any similar capacity, in providing this material, which cannot be relied upon as investment, financial, legal, tax, regulatory, or any other type of advice. The information contained herein has not been prepared or tailored to address, and may not be suitable or appropriate for the particular financial needs, circumstances, or requirements of any person, and it should not be the basis for making any investment or transaction decision. THE INFORMATION IS NEITHER A RECOMMENDATION TO ENGAGE IN ANY TRANSACTION NOR RESEARCH MATERIAL.
This material contained herein is confidential and may not be distributed in whole or in part to anyone other than the intended recipients. Unauthorized reproduction or distribution of all or any of this material or the information contained herein is strictly prohibited. These materials are incomplete without reference to, and should be viewed solely in conjunction with, the terms and disclosures set forth on the Genesis website, which are deemed incorporated herein.
The information provided in this communication does not constitute investment advice, financial advice, trading advice, or other advice. If any person elects to enter into transactions with Genesis, whether as a result of this material or otherwise, Genesis will enter into such transactions as principal only and will act solely in its own best interests, which may be adverse to your interests. Therefore, you are advised to make your own assessment of whether a Genesis service that you are considering is suitable for you and ensure that you have the necessary experience and knowledge to understand the risks involved in relation to those particular services, transactions or investments. Prior to entering into any transaction, you should determine, without reliance upon us or our affiliates, the economic risks and merits (and independently determine that you are able to assume these risks) as well as the legal, tax and accounting characterizations and consequences. In this regard, by accepting this material, you acknowledge that (a) we are not in the business of providing (and you are not relying on us for) legal, tax or accounting advice, (b) there may be legal, tax or accounting risks associated with any transaction, (c) you should receive (and rely on) separate and qualified legal, tax and accounting advice and (d) you should apprise senior management in your organization as to such legal, tax and accounting advice and our disclaimer as to these matters. By accepting receipt of this material, the recipient will be deemed to represent that they possess, either individually or through their advisers, sufficient investment expertise to understand the risks involved in any transactions or services discussed herein and that they have not relied in whole or in part on any of the information provided by Genesis in making such determination.
The trading of digital currency as herein described is an inherently risky activity. Digital currency does not benefit from the protections afforded by the Securities Investor Protection Corporation. A counterparty's ability to enter into derivatives with Genesis depends on satisfying a number of regulatory requirements imposed on derivatives under the Dodd–Frank Wall Street Reform and Consumer Protection Act and applicable law.
Any prices or levels contained herein are preliminary and indicative only and do not represent bids or offers. These indications are provided solely for your information and consideration, are subject to change at any time without notice and are not intended as an offer to sell or a solicitation to purchase any financial instrument. Nothing contained herein shall constitute any representation or warranty as to future performance of any financial instrument, credit, currency rate or other market or economic measure. In preparing this material, we have relied upon and assumed, without independent verification, the accuracy and completeness of all information available from public sources or which was otherwise reviewed by us. Genesis does not make any representations or warranties, express or implied, as to the accuracy or completeness of the information provided herein. Any estimates included herein constitute our judgment as of the date hereof, are subject to change, may or may not be realized, and are not a complete analysis of every material fact. We and/or our affiliates may make a market in these instruments for our customers and for our own account. Accordingly, Genesis may have a position in any such instrument at any time.
Genesis and Genesis Trading are marketing names for certain businesses of Genesis Global Trading, Inc. and its global affiliates and if and as used herein may include as applicable employees or officers of any or all of such entities irrespective of the marketing name used. Products and services may not be available to all counterparties or in all jurisdictions. Securities and digital assets are not deposits or other obligations of any commercial bank, are not guaranteed by any commercial bank and are not insured by the Federal Deposit Insurance Corporation. GGC International Limited is incorporated in the British Virgin Islands ("BVI"). Genesis Global Trading, Inc, a Delaware corporation, has been granted a Virtual Currency License by the New York State Department of Financial Services and is registered with the U.S. Securities and Exchange Commission as a broker dealer. Genesis Asia Pacific Pte. Ltd. Is a private limited company organized under the laws of Singapore. Genesis Global Capital, LLC is a limited liability company organized under the laws of Delaware. Genesis Custody Limited is registered as a cryptoasset business with the UK Financial Conduct Authority.
© 2022 Genesis Global Trading, Inc. All rights reserved. "Genesis", the Genesis logo, and other Genesis trademarks and service marks referenced herein are trademarks and service marks of Genesis and are used and registered throughout the world.