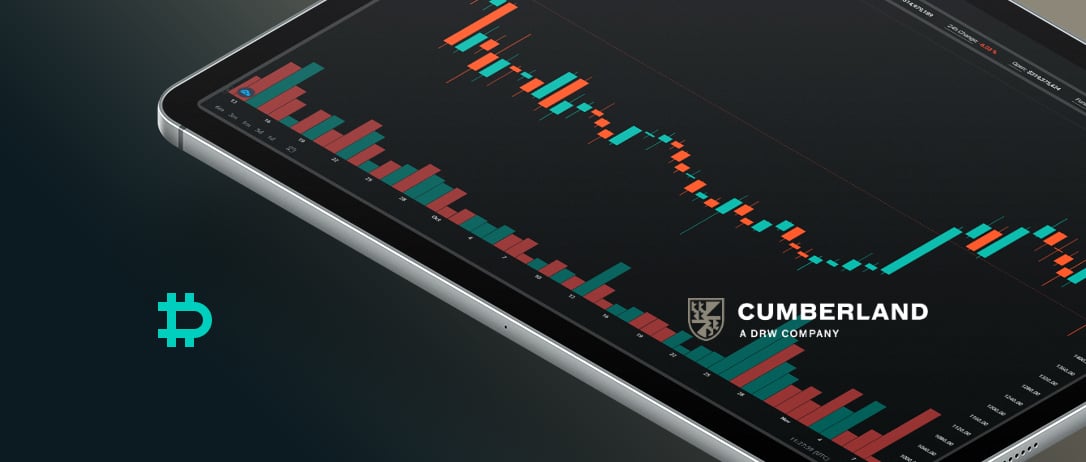 Cumberland is commenting on the recent volatility and potential opportunities to take advantage of it.
For further information about Cumberland, please visit Cumberland website here.
The month of March started off with a rapid selloff on the Asia session on Thursday from 23.5 -> 22.5 followed by muted price action. The hourly realized vol has decayed to ~46 & 51 for BTC & ETH respectively over the last 5 days. This is in line with the 47.5 & 53 implied vol for the month of March.
Important events to note this week are Powell's testimony later today and the employment situation by the end of the week. Stocks have started the month on a strong note due to a global economic rebound in Feb with the backdrop of a patient Fed, insisting on a gradual hiking path for the rest of the year.
Crypto specific events include Shanghai update for ETH, which is firmly in mid-April now, as well as the looming auctions of FTX, Voyager, Celsius and Gox coins, and regulatory headlines – Binance, Signature, Silvergate, Grayscale and Ripple are all in the crosshairs this month.
Potential Trade
Given the stacked event calendar, both macro and crypto specific, gives good reason for a purchase of April-28th ATM straddles in both BTC and ETH for prices of $3475 and $265 for the 22.5k and 1550 straddles. This is roughly a 50% and 57% vol representing a 2.6% and 2.9% daily break-even.

Disclaimer
The information ("Information") provided by Cumberland DRW LLC and its affiliated or related companies (collectively, "Cumberland"), either in this document or otherwise, is for informational purposes only and is provided without charge. Cumberland is a principal trading firm; it is not and does not act as a fiduciary or adviser, or in any similar capacity, in providing the Information, and the Information may not be relied upon as investment, financial, legal, tax, regulatory, or any other type of advice. The Information has not been prepared or tailored to address, and may not be suitable or appropriate for the particular financial needs, circumstances, or requirements of any person, and it should not be the basis for making any investment or transaction decision. THE INFORMATION IS NOT A RECOMMENDATION TO ENGAGE IN ANY TRANSACTION.
If any person elects to enter into transactions with Cumberland, whether as a result of the Information or otherwise, Cumberland will enter into such transactions as principal only and will act solely in its own best interests, which may be adverse to the interests of such person. Before entering into any such transaction, you should conduct your own research and obtain your own advice as to whether the transaction is appropriate for your specific circumstances. In addition, any person wishing to enter into transactions with Cumberland must satisfy Cumberland's eligibility requirements.
Cumberland may be subject to certain conflicts of interest in connection with the provision of the Information. For example, Cumberland may, but does not necessarily, hold or control positions in the cryptoasset(s) discussed in the Information, and transactions entered into by Cumberland could affect the relevant markets in ways that are adverse to a counterparty of Cumberland. Cumberland may engage in transactions in a manner inconsistent with the views expressed in the Information.
Cumberland makes no representations or warranties (express or implied) regarding, nor shall it have any responsibility or liability for the accuracy, adequacy, timeliness, or completeness of, the Information, and no representation is made or is to be implied that the Information will remain unchanged. Cumberland undertakes no duty to amend, correct, update, or otherwise supplement the Information.
The virtual currency industry is subject to a range of risks, including but not limited to: price volatility, limited liquidity, limited and incomplete information regarding certain instruments, products, or cryptoassets, and a still emerging and evolving regulatory environment. The past performance of any instruments, products, or cryptoassets addressed in the Information is not a guide to future performance, nor is it a reliable indicator of future results or performance. Investing in virtual currencies involves significant risks and is not appropriate for many investors, including those without significant investment experience and capacity to assume significant risks.