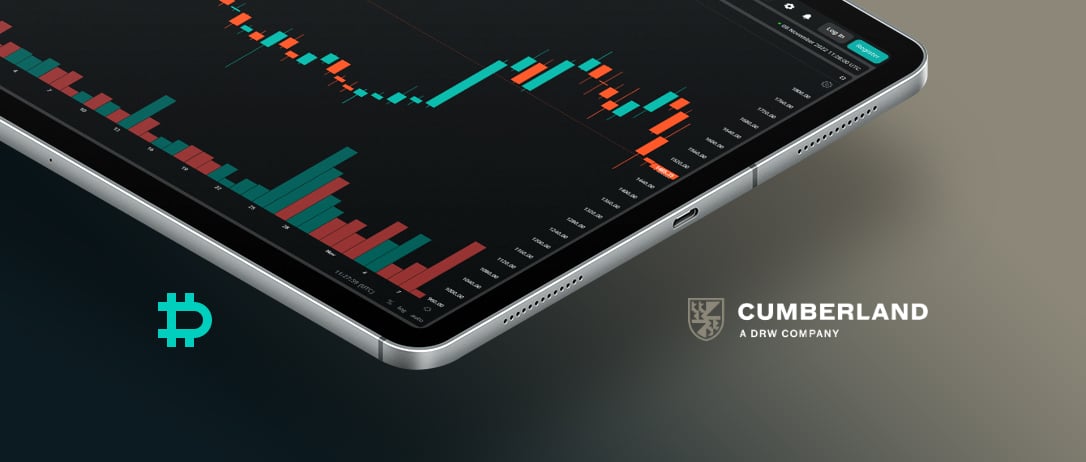 Cumberland is commenting on the recent volatility and potential opportunities to take advantage of it.
For further information about Cumberland, please visit Cumberland website here.
This was a second consecutive extremely slow weekend, with BTC trading in a 1% range for a meager 12% vol.
For the past few weeks, the market has seemed to be in recovery mode, with most traders fairly exhausted from a turbulent November and many already looking to turn the calendar to Dec. On our end, we've typically seen higher-than-expected (given the volatility) volumes so far this month, as we're starting to see volumes transition from exchanges to OTC. (This will mostly be a lagging indicator, given the weeks needed for KYC for onboarding).
As for the weekend narrative, it largely resolved around trust in crypto institutions. The weekend started with the revelation that The Block's CEO had received several loans from Alameda Research, an event which will (rightly or wrongly) undermine the trust the market places in The Block's coverage. The CEO stepped down, but still remains the company's majority shareholder, placing some uncertainty around one of the primary newsrooms in the space.
The other story catching attention this weekend was Binance's efforts at completing an audit which included proof of reserves. Most POR attempts by major exchanges have been viewed as lacking by the market; then again, it's only been a month since FTX collapsed. Exchange POR should be considered a requirement going forward, and should have been a requirement going back, but the industry didn't demand them. Instead of the exchanges continuing to put forward audit attempts and being shot down by the market, it would be worthwhile to see industry groups propose reporting standards for exchanges to comply with.
Gas on Ethereum was expensive this weekend, at one point spiking to 200 gwei and pushing ETH towards back towards net deflationary (currently 0.005%/year inflation since the Merge). The high gas was partially driven by NFT volumes, but nearly 50% of the gas was used by the USDT contract. This appears to have been driven by Binance moving assets to prepare for the POR.
And for something more fun: Sotheby's is auctioning a second copy of the Constitution this week, and the spiritual successors to ConstitutionDAO are going for it. (I honestly do not know anyone in crypto who is not rooting for these guys to win it).
Disclaimer
The information ("Information") provided by Cumberland DRW LLC and its affiliated or related companies (collectively, "Cumberland"), either in this document or otherwise, is for informational purposes only and is provided without charge. Cumberland is a principal trading firm; it is not and does not act as a fiduciary or adviser, or in any similar capacity, in providing the Information, and the Information may not be relied upon as investment, financial, legal, tax, regulatory, or any other type of advice. The Information has not been prepared or tailored to address, and may not be suitable or appropriate for the particular financial needs, circumstances, or requirements of any person, and it should not be the basis for making any investment or transaction decision. THE INFORMATION IS NOT A RECOMMENDATION TO ENGAGE IN ANY TRANSACTION.
If any person elects to enter into transactions with Cumberland, whether as a result of the Information or otherwise, Cumberland will enter into such transactions as principal only and will act solely in its own best interests, which may be adverse to the interests of such person. Before entering into any such transaction, you should conduct your own research and obtain your own advice as to whether the transaction is appropriate for your specific circumstances. In addition, any person wishing to enter into transactions with Cumberland must satisfy Cumberland's eligibility requirements.
Cumberland may be subject to certain conflicts of interest in connection with the provision of the Information. For example, Cumberland may, but does not necessarily, hold or control positions in the cryptoasset(s) discussed in the Information, and transactions entered into by Cumberland could affect the relevant markets in ways that are adverse to a counterparty of Cumberland. Cumberland may engage in transactions in a manner inconsistent with the views expressed in the Information.
Cumberland makes no representations or warranties (express or implied) regarding, nor shall it have any responsibility or liability for the accuracy, adequacy, timeliness, or completeness of, the Information, and no representation is made or is to be implied that the Information will remain unchanged. Cumberland undertakes no duty to amend, correct, update, or otherwise supplement the Information.
The virtual currency industry is subject to a range of risks, including but not limited to: price volatility, limited liquidity, limited and incomplete information regarding certain instruments, products, or cryptoassets, and a still emerging and evolving regulatory environment. The past performance of any instruments, products, or cryptoassets addressed in the Information is not a guide to future performance, nor is it a reliable indicator of future results or performance. Investing in virtual currencies involves significant risks and is not appropriate for many investors, including those without significant investment experience and capacity to assume significant risks.