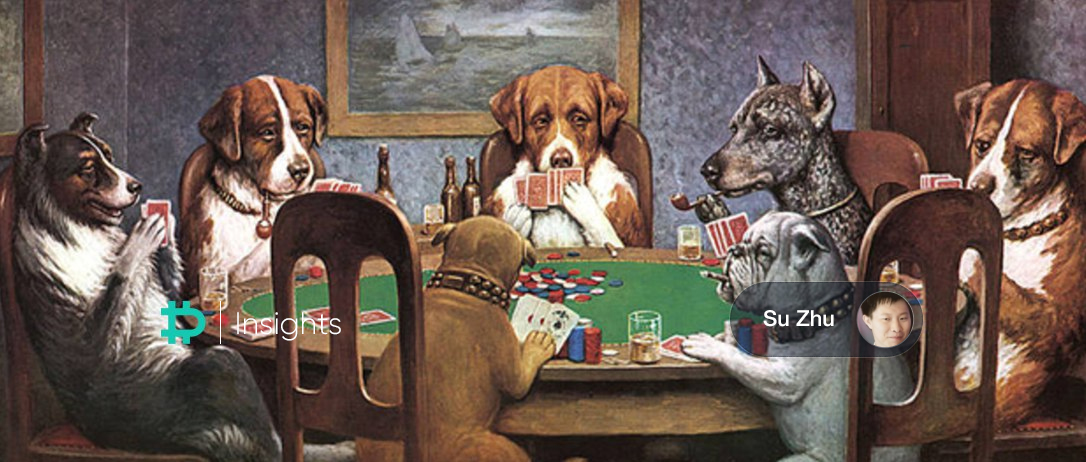 Cryptocurrency was supposed to usher in a new era in gambling by being an uncensorable method of exchange and allow the creation of decentralized networks without jurisdiction. However, despite it being one of the most obvious use cases, why has so little progress been made in the adoption of cryptocurrency gambling?
Written in the Code
The fate of cryptocurrency and gambling was seemingly foreshadowed from the beginning. The original repository that held Bitcoin's 0.1.0 code included the framework to create a virtual poker game. However after the official network launch, this never came to fruition. The most interesting theory floating around is that Satoshi thought Bitcoin needed an application to bootstrap its initial moneyness–that it might need to first be a utility token.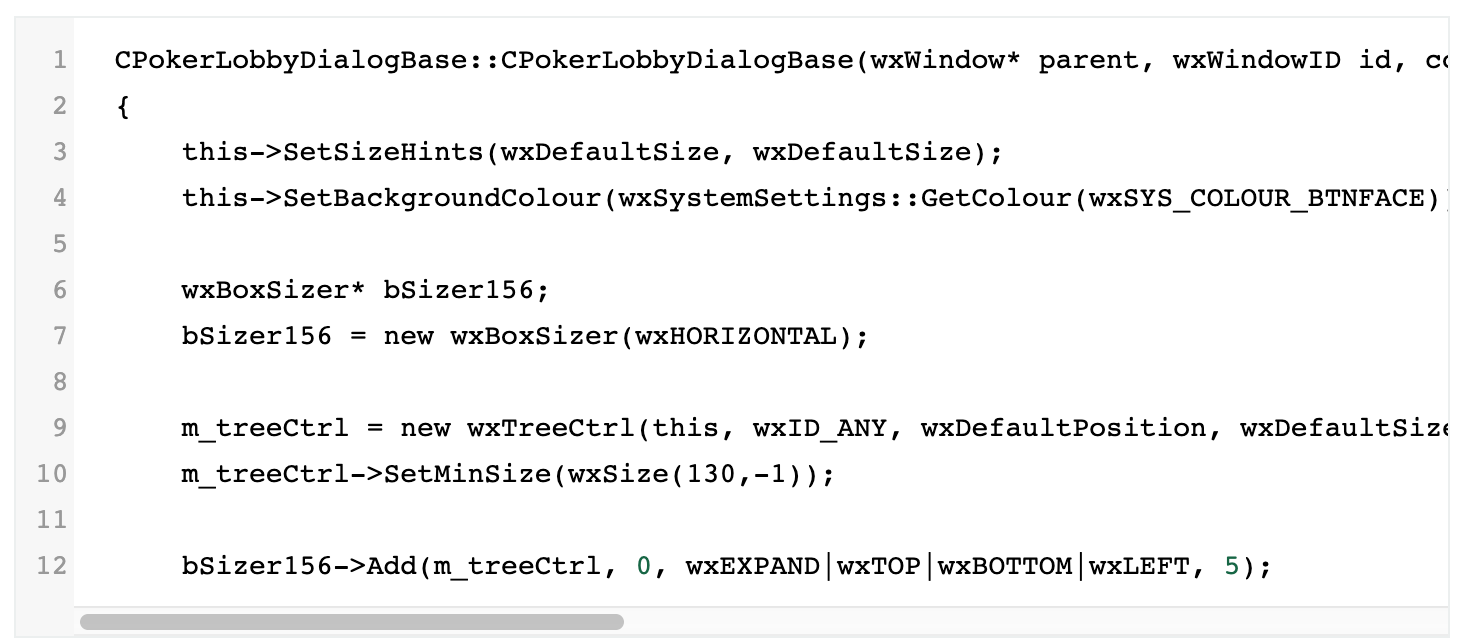 Source: Original Bitcoin Code
Since then, according to ICOBench there have been 167 casino & gambling ICOs so far, raising over $640 million. Revenue has been difficult to track in many cases, or outright impossible. Ethereum smart contracts allowed project founders to sell the dream of transparency with low fees, frictionless deposit and withdrawals.
False Progress
The ICO wasteland has had its fair share of failed gambling projects. The ones that survived remain irrelevant. Those that appear to be flourishing are the flavour of the month projects before they are replaced by a newer platform offering fresh incentives. Projects compete for exposure at the top of Dapp leaderboards but often expose an illogical disparity between their faked user numbers, volumes, and transactions.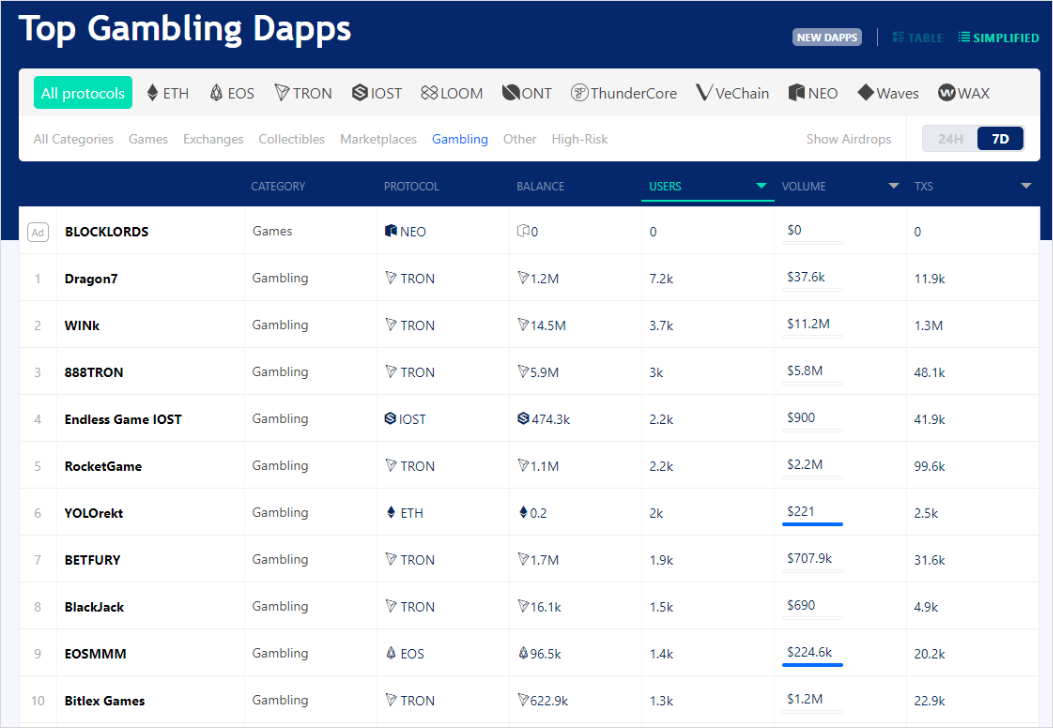 Source: Top Gambling Dapps — DappRadar
The Edgeless (EDG) ICO raised over 47,000 ETH ($1.9 million at the time) from February 28th to March 31st, 2017. Listed as one of the first 50 ICOs on ICOBench and the 3rd completed casino & gambling ICO, Edgeless pitched itself as "the first absolutely transparent, zero edge casino to market".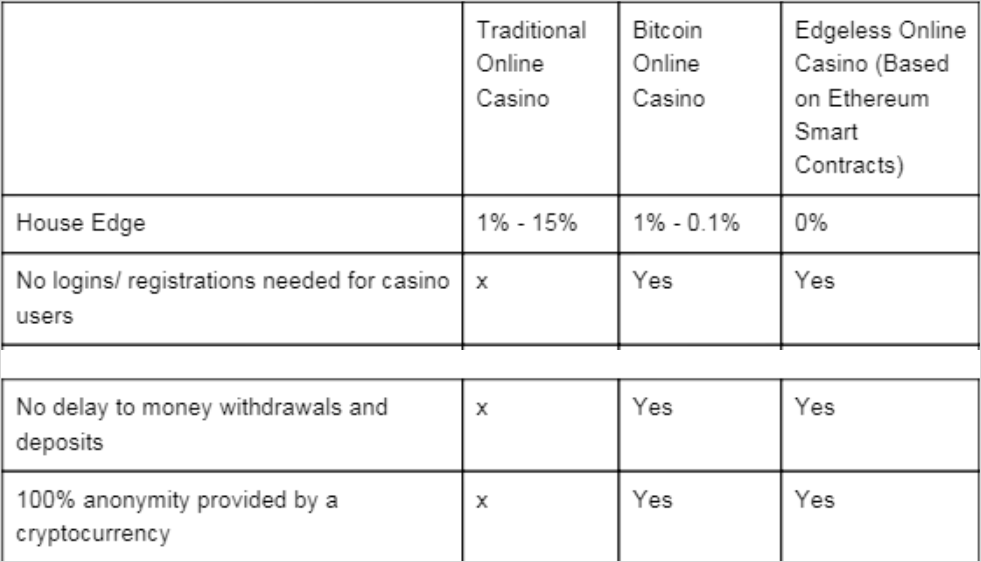 Source: Edgeless (EDG) Whitepaper
In 2018, Edgeless launched its online casino, opened staking and became compliant with gambling and crypto regulations. It had already reneged on its promise for 100% anonymity provided by a cryptocurrency and no logins/registrations needed for casino users. Nevertheless, daily active users grew to an average of 21 in December 2018.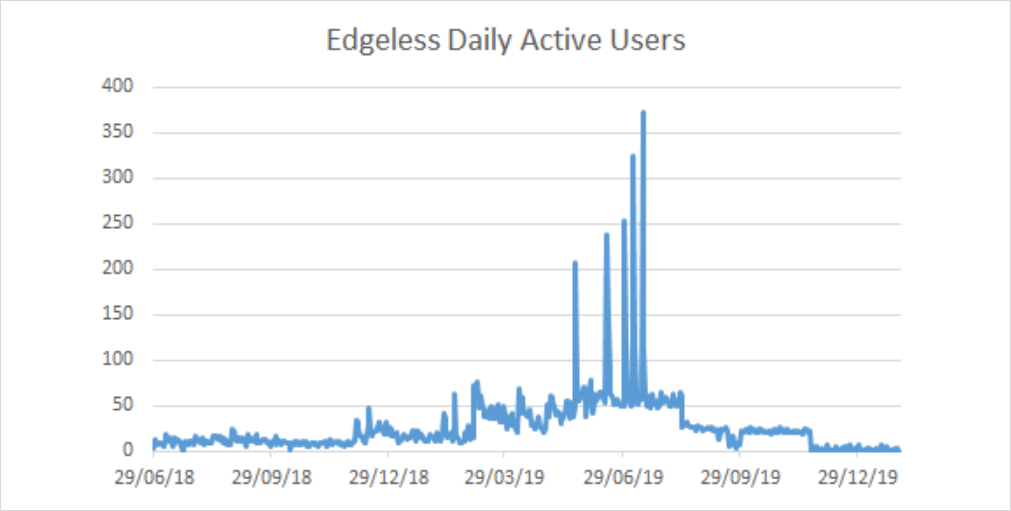 Source: Edgeless — DappRadar
A Welcome Pack was introduced in April, 2019 to attract more new players with a newcomer offer of "up to 7 BTC + up to 777 Free Spins" as well as a 'no deposit' offering of 27 free spins to registered players. This attracted enormous volumes of 'bonus hunters' from developing countries who registered multiple accounts to abuse this promotion. By Edgeless's own admission, one bonus hunter group withdrew almost 100,000 EDG tokens ($10,000 at the time) from the casino between April and June 2019. We can only speculate the total amount of damage done to the project's balance sheet and if they would ever be able to recover from this. Giving money directly to users through unsustainable promotions generated some initial traffic but once it ended, the users left.
Edgeless introduced their new variation of the Welcome Pack in September. However, this is again something that can be gamed if players make "perfect decisions [where] they will reach a 0% edge" but on a slower scale than the previous offering. The team does not seem to have learned from their mistakes and continues to gamble with their community's funds in an attempt to grow adoption.

Updated Welcome Pack
Source: Monthly Update: September '19
The implementation of KYC onto a supposedly decentralised platform completely abandons the spirit of crypto itself. With the need to provide personal information and upload proof of identity, gambling platforms such as Edgeless mirror a traditional online gambling venue with the added friction of dealing with EDG tokens. Bankroll staking in Edgeless incorporates a community-funded bankroll, allowing the casino to serve a larger client base and offer higher betting limits but this feature is also hidden behind the mandatory KYC wall.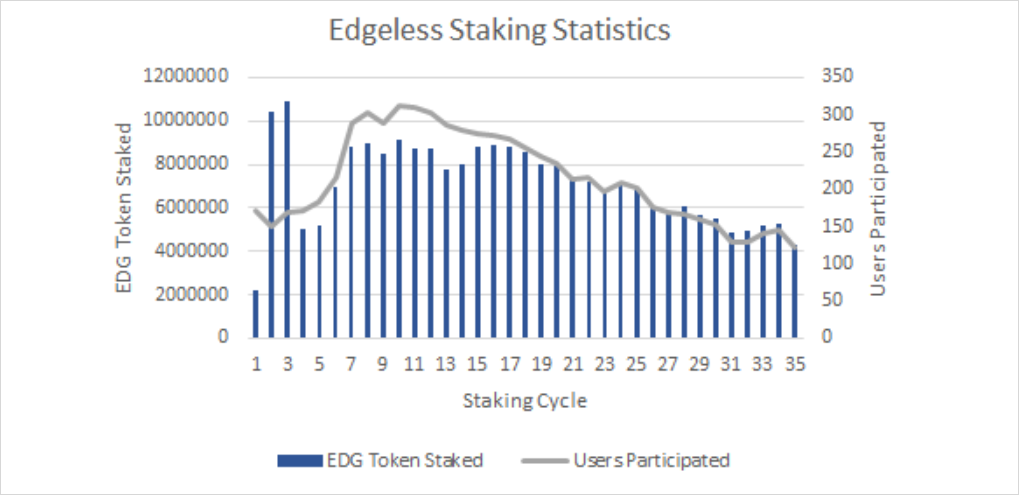 Source: Edgeless
Far from an isolated case, Edgeless is an example of founders making false progress by moving forward with registration and KYC to comply with regulations but ending the possibility of ever succeeding as a legitimate cryptocurrency project.
Continued Protocol Limitations
Augur is listed as the 3rd earliest ICO on ICOBench and was pitched as a "decentralized oracle and prediction market protocol". However, it was short-sighted to see its largest use case as anything but sport gamblers looking for a transparent platform with lower fees and streamlined fund movement. Augur's rebrand in late 2019 to "the world's most accessible, no-limit betting platform" was hopefully a testament to their eventual understanding of this.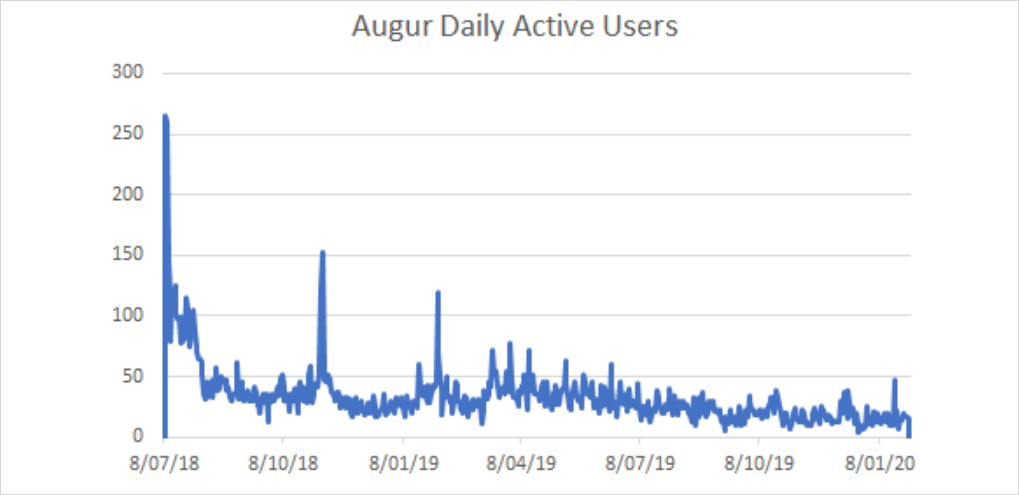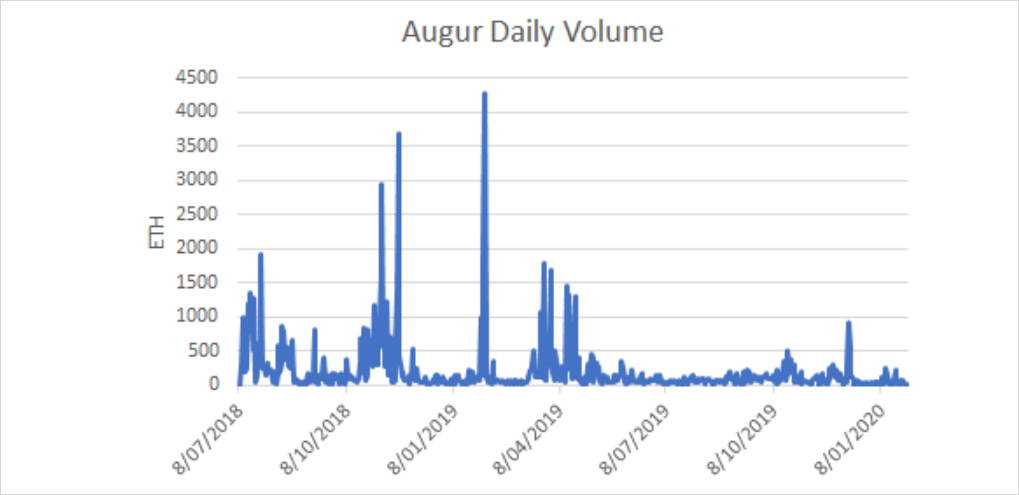 Source: Augur — DappRadar
Despite Augur's unimpressive usage statistics, it remains relevant as a potential betting exchange competitor because of its decentralized nature. Matched betting is the same as trading where liquidity begets liquidity and Augur's issues stem from the current protocol being unattractive to liquidity providers. If a market is disputed, the settlement of the market will go into a vote and there is a designated reporting time of 3 days. Furthermore, there are inherent flaws with reporting and settlement of markets when markets resolve invalid. In these cases, funds are returned evenly across all outcomes meaning small liquidity providers take funds off big liquidity providers. In terms of usability for bettors, simply knowing what odds are being traded is a mathematical struggle.

What odds are being offered?
Source: 2020 Super Bowl LIV Winner? | Augur
Augur's V2 protocol upgrade theoretically makes it more usable though it is still not a comparable experience to current centralized betting exchanges. Designated reporting time has been reduced to 1 day from 3 days and first dispute windows have reduced to 1 day. However, for an outcome to win, it still must be undisputed for an entire seven-day window meaning that liquidity will continue to be lower for Augur because of the time value of locked up funds. Invalid has also been introduced as a tradeable outcome to allow traders to hedge the risk of Invalid outcomes and reduce the influence of bad actors. Further improvements include DAI integration and betting UI which has been configured to match that of current betting exchanges with easy-to-understand odds and a Betfair-inspired layout.

Betfair anyone?
Source: Augur v2 & Beyond
The level of adoption for Augur V2 remains to be seen. Despite it being a major usability improvement over the first iteration, the proposed user experience past the UI is still underwhelming compared to what bettors are currently used to.
Much of the Same
Users are currently not giving any significant portion of their action to these new networks. They instead choose to remain at traditional networks and only use cryptocurrency as a payment processor. This ultimately leads to the same issues that bettors face with traditional bookmakers, except they have less rights than usual with offshore instead of traditional domestic operators and results in the need for online mediation.
Cloudbet is a Curaçao based sports betting and casino operator that accepts cryptocurrencies. It has been accused of allowing users to deposit and gamble and then requesting KYC and closing accounts when a withdrawal is initiated. Their justification is usually that the player had opened multiple accounts which is against their Terms and Conditions or issues with citizenship. These issues are mirrored across other centralized crypto-gambling operators such as sportsbet.io, sponsors of Watford Football Club (Link), 1xBit (Link), and Fairlay (Link).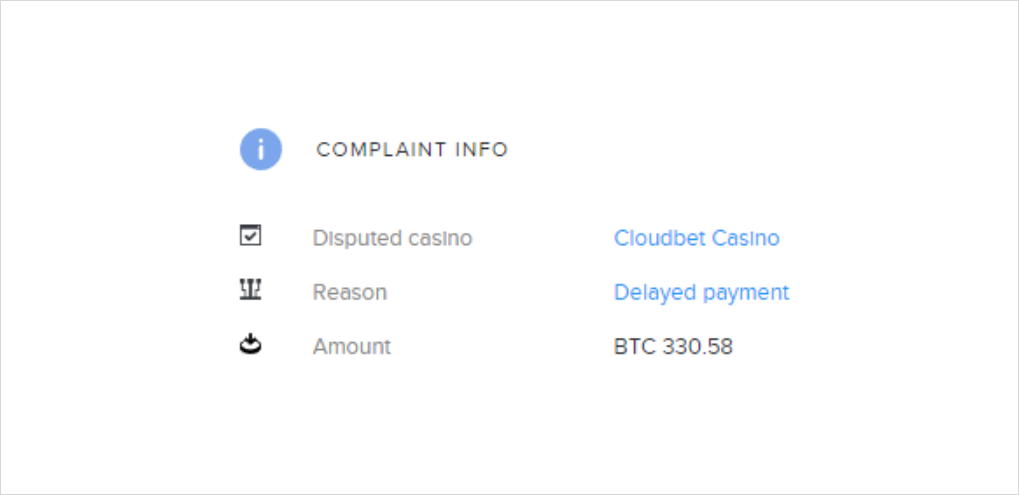 Delayed payment issues still exist much like traditional operators
Source: Cloudbet Casino — Delayed 330 BTC Payment — Complaint Solved
Takeaways
The continued growth of the online gambling market is undeniable, but so is the stark failure of cryptocurrency to capture any of this. This is not to say that niche betting games such as satoshiDICE and bustabit haven't done well as cryptosocial gambling, but traditional casino games and betting exchanges have yet to bear fruit.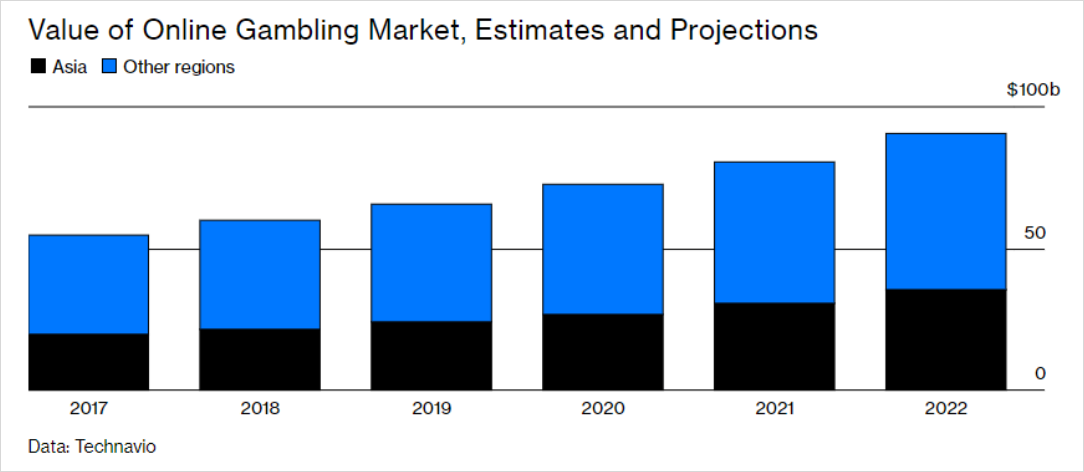 Source: The $24 Billion Online Casino Boom China Is Struggling to Halt
The "build it and they will come" approach has not worked for most cryptocurrency projects and is especially evident in gambling projects. Users were promised anonymity and frictionless transfers while receiving neither. The killer cryptocurrency gambling application needs to be one that combines the existing product and decentralization without compromising either component.
Until then, cryptocurrency will merely be a fiat substitute in the online gambling sector. On top of that, perhaps the volatility of crypto itself versus fiat is already so high that there is minimal demand for gambling once one has already decided to get involved in crypto.